Find out exactly where you need to go to get your Maui sweets, and learn more about these local businesses!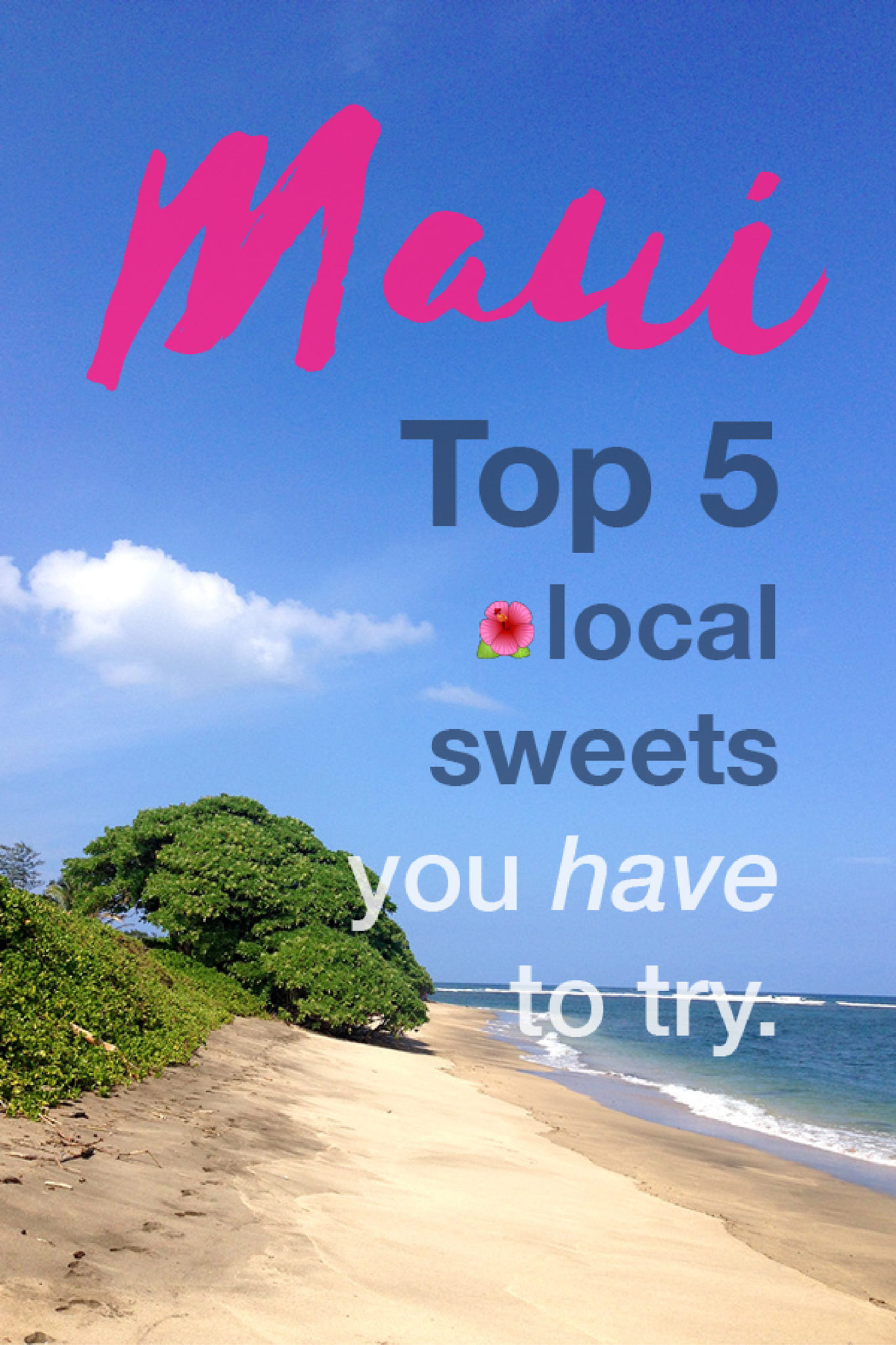 Can't make it to Maui anytime soon? Tide yourself over with my Chocolate Haupia Pie, Pumpkin Mochi, or Mochiko Chicken recipes!
Ahhh, Maui. Beautiful paradise. At the beginning of January, my husband, kids and I went to visit family in Maui. While we were there, I decided to contact and visit my favorite places to get sweets! I also got to go to a couple of new places, based on recommendations from local friends and family. THESE are the places you need to go to get some Maui sweets!
Hands down, this is the best shave ice you can get on Maui (I'd say the world, but I haven't actually tried shave ice all around the world, so, you know…). I had my first Ululani shave ice experience about 5 years ago, and my world was changed. Never again could I enjoy shave ice that was icy. It needed to be fluffy. No more store bought syrup after I tasted their handmade recipes. Really, it's their fault that I'm such a shave ice snob now. By the way, don't go calling it shaveD ice, or people will know you're a tourist! Shave ice, guys. Shave ice.
So what makes Ululani's so special? I got to speak with David Yamashiro who, with his wife Ululani, turned a small side business into a shave ice empire! He told me about several things that make them stand out. First, their ice- soft and fluffy… not icy, not crunchy, just… fluffy! It's unlike any snow cone you can get on the mainland, I promise.
Second, the syrups. Now, I'm not really a fan of store bought fruit syrups, and this is where Ululani's really shines. They hand make all of their syrups, and many of their fruit flavors are made with fresh fruit puree. As a matter of fact, their mango syrup is 33% pureed mango, wow! Their goal when they first opened shop is to make "every flavor exceptional" and, my favorite, they wanted their flavors to be "punch-you-in-the-mouth".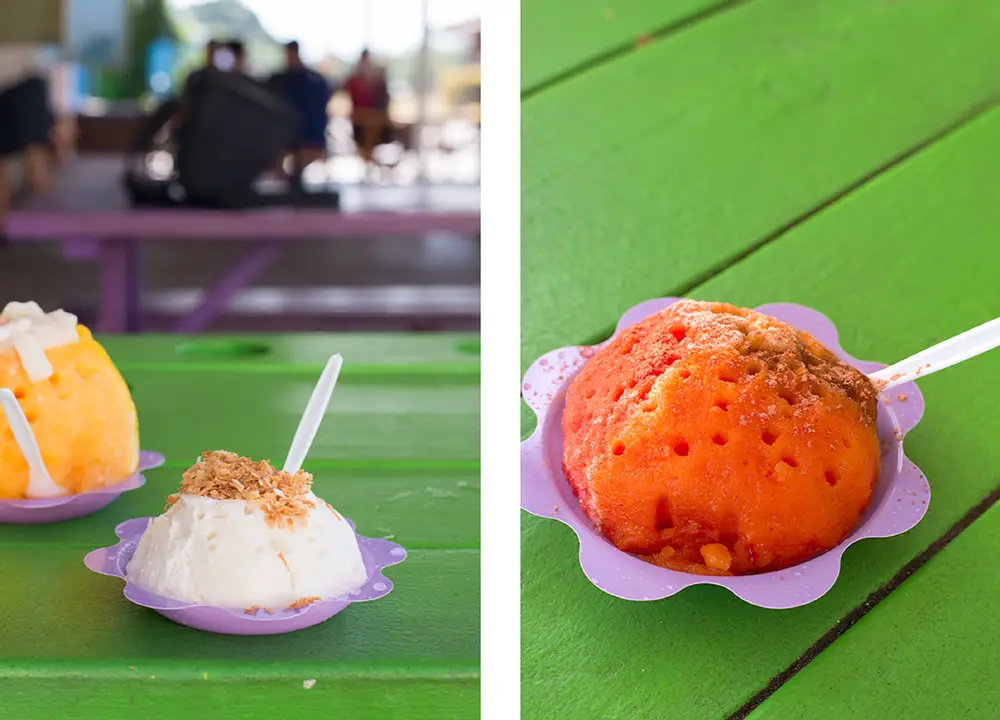 The third thing that makes Ululani's special, is their commitment to customer satisfaction. "If we heard it once, we make note of it, if we heard it twice, we addressed it… Everything that we do is based on feedback." Over the course of eight years on Maui, they have tweaked, improved, and perfected the art of shave ice. By the way, the reason there are holes in the ice? Well, it's to help the syrup reach alllll of the ice. Something they started doing after feedback about the bottom ice not having flavor. Like I said, perfecting their trade.
Oh, and can I say one more awesome thing that I learned from David during my visit? They use Roselani ice cream at the bottom of their shave ice (ice cream on the bottom is typical for Hawaiian style shave ice. Optional, but why wouldn't you???) but there are three tiers of quality that Roselani sells: economy, premium, and gourmet. Guess which one Ululani's uses? Yup, the gourmet. And their mochi topping is fresh from Maui Specialty Chocolates (more on that below)! Mmm, quality ingredients=amazing end product!
By the way, we tried the Haleakala (leche, coconut) topped with toasted coconut, the Sunset beach (mango, guava, passion orange), my personal go-to combo of almond, lychee, melona with a snow-cap and topped with mochi, and we got a sneak peak at their new flavors from the "crackseed store" line (li hing mui, pickled mango, wet lemon peel). The last one is all about local flavors and is so unique. I've never tasted shave ice like that, and it was a delicious Maui sweet! As a matter of fact, they were all amazing!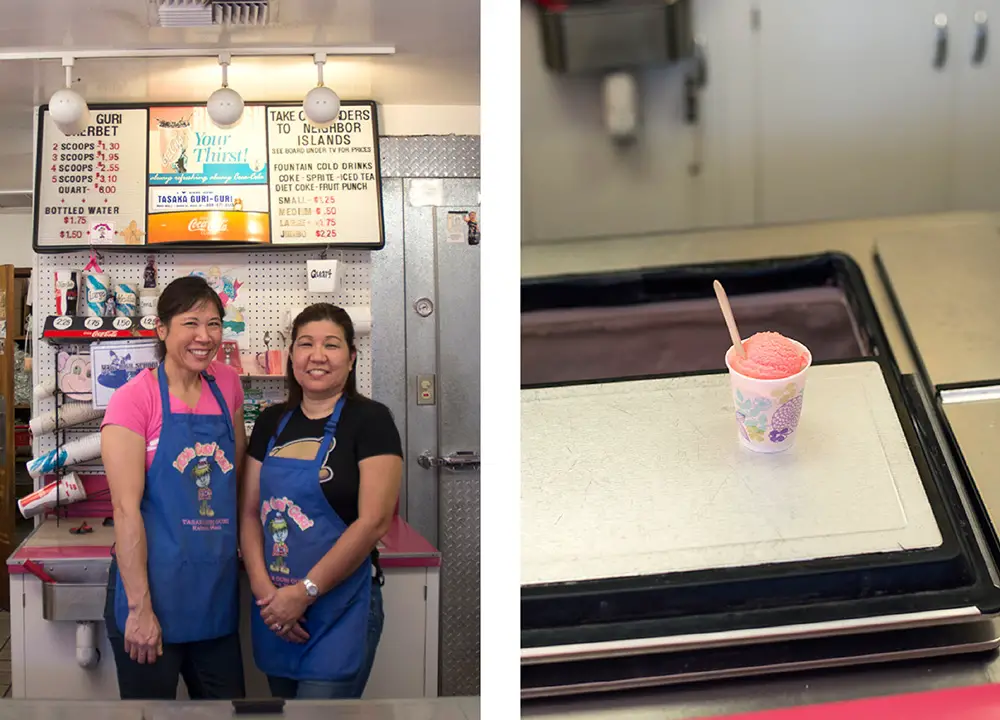 Located in the non-descript Maui mall (not to be confused with the Kaahumanu mall), Tasaka Guri Guri is a place I have to visit every time I visit Maui, no exceptions. I got to speak with Gail, who is the great granddaughter of the founder of Maui's Guri Guri. Guri Guri has been around for over 100 years (!!!!!!) and they've somehow managed to keep their recipe a family secret! As a matter of fact, she and her sister are the only ones (besides a retired uncle) who know the secret recipe. How cool is that?
So what is Guri Guri? Well, that's hard to explain. It's kind of sherbet-y, but it's not sherbet because there is dairy in it. It's not ice cream… "you just gotta try it", says Gail. And when you try it, make sure you try at least a scoop of each. Although, you'll probably wish you got the four scoop.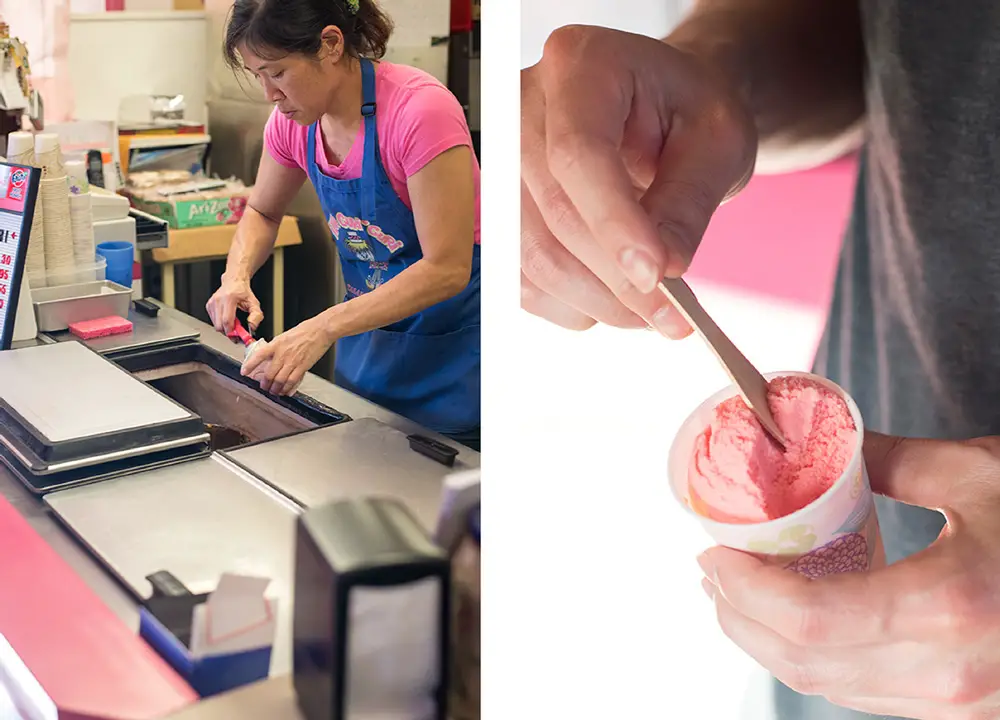 There are two flavors. Just two. Strawberry and pineapple. "Have you guys ever thought of expanding the number of flavors?", a question I'm surely not the first to ask. But, "we just like to keep things simple". Fair enough. Don't fix what isn't broken, right?
By the way, my mom came to Maui for my wedding, and she tried Guri Guri and loved it (obviously), and tried to recreate it at home. The result? Less than stellar. "We see people put their recipes in local cookbooks and things? And we look at it and it's like, no… not even close". So if you see a recipe online that says it's JUST LIKE GURI GURI!!! Well, sorry, it's probably not. Only Gail and her sister can make Guri Guri so just stop trying and come back to Maui if you want some more.
Anyways, you really have to try this classic Maui sweet .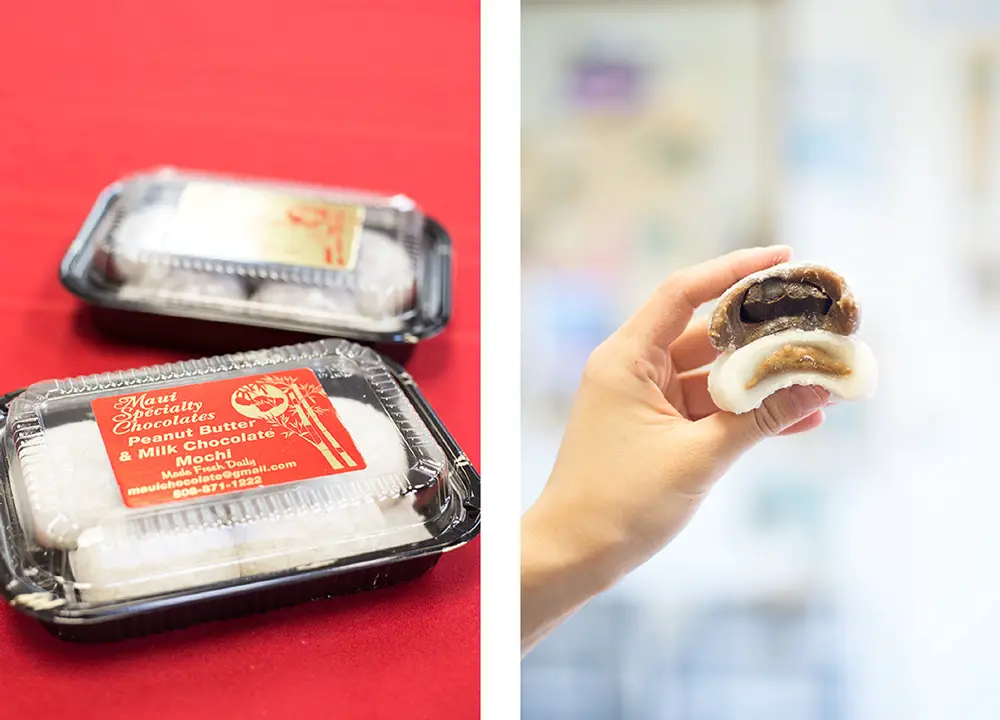 I had been eating Maui Specialty Chocolates since the first time I visited Maui back in 2009… I just didn't know it. All I knew was that there was peanut butter chocolate mochi and it was delicious. Any mochi lovers out there? You HAVE to go eat the mochi at Maui Specialty Chocolates. While I was in there taking some pictures, a few customers walk in and one of the guys said, "Dude, the mochi here is SO soft, you have to try it." Which basically sums it all up.
I talked to Tony, who started Maui Specialty Chocolates with his wife Valerie. Although, as he told me, "She does it all. She just makes me work here". Hehe. They've been in business for 27 years, and their recipes and chocolate blends (top secret, by the way) are all created by Valerie. She went to the Culinary Institute of America, so she has a solid background in sweets making.
This is how they started. She'd make chocolates for holiday gifting and people would keep coming back asking her if they could get an extra box to give to so-and-so, or… maybe just for themselves. And the business started because, and I quote, "they'd say, you should sell it! And so hey, let's sell it". So beautifully simple, I love it.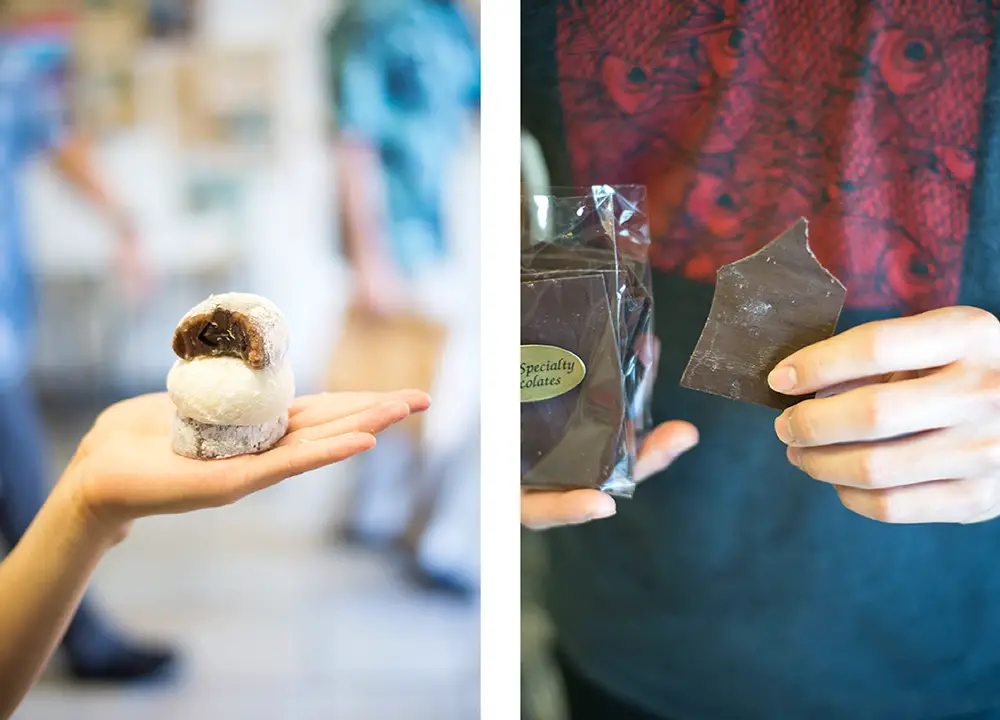 They started selling mochi about 10-11 years ago, and it's since become their most popular item. The secret to success? The sooooft mochi. It's so soft, and then there's crunchy peanut butter chocolate inside, or if you get the chocolate ganache, then… well, there's chocolate ganache inside (bonus! The chocolate ganache one is wrapped in chocolate mochi!).
Something they want people to know? Well, they make everything themselves, and they ONLY sell it at the store. Don't try to find it off-island, and don't think you can find it at a local grocery store. Nope, you have to go to the store. So exclusive! And make sure to go early! When I was there right at opening, there were several customers coming in and buying multiple boxes of the mochi. First come first served!
Oh, and remember the mochi topping at Ululani's that I mentioned? Made fresh every morning by Maui Specialty Chocolates.
I love this quote on their About Us, "the goal of Maui Specialty Chocolates has never been to sell the most chocolates but to make the best chocolates possible using the finest chocolates and freshest ingredients". It's so refreshing when businesses truly focus on quality over making money. You can really feel the love and passion these two have for their shop. Such a great Maui sweet.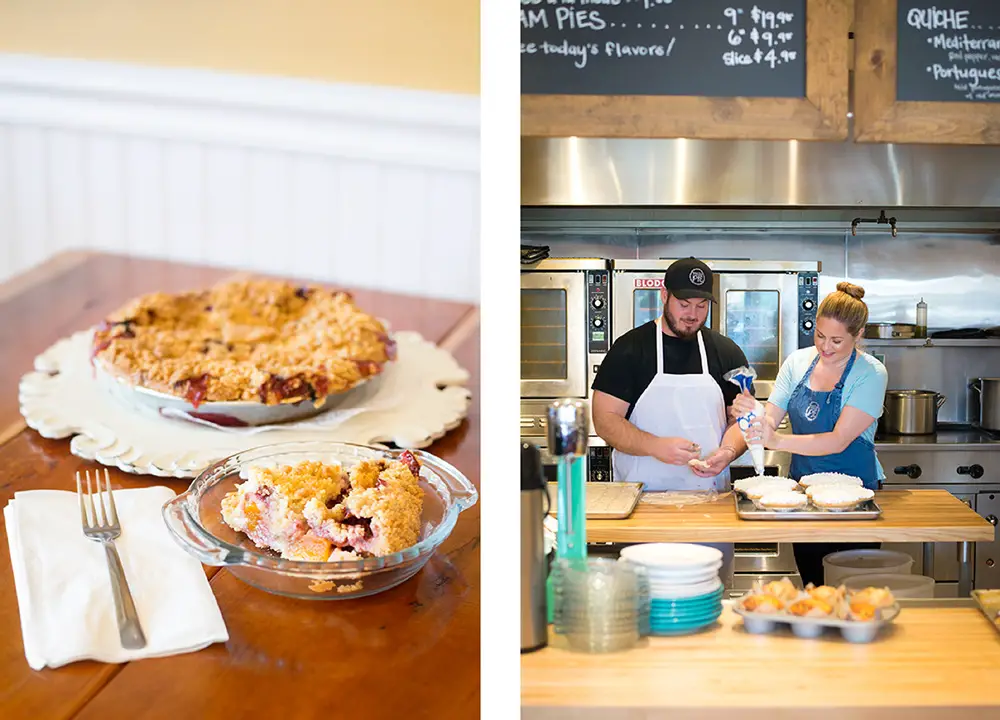 Now here's an inspiring story. A girl grows up in a pie shop. Okay that sounds weird. What I'm saying is that her parents owned a pie shop and she spent a lot of time there. She grows up and thinks, I don't want to do what my parents did. I'm going to do my own thing… so she goes into the corporate scene, realizes the corporate grind sucks, and comes back to… you guessed it, baking pies!
Maui Pie was opened about a year and a half ago, in July 2015 by Kellee and Ryan. They are both from Michigan, but always loved, loved, LOVED Maui. They visited several times over the course of 10 years, and always felt so sad when they had to leave. When they got married, two and half years ago, they decided, yeah, let's move to Maui. So, 6 months later, they were in Maui, and 6 months after that? Maui Pie was opened.
I mean, everyone has dreams, but how many people just get up and go DO what they want to do? I think it's awesome! They're still new but are quickly growing, and feel confident that they have now staked their place in Maui. They love being active in their community, and are always looking for ways to give back. I mean, these guys are so super nice, I'm really glad I got to chat with Kellee! I felt personally inspired to go after my dreams!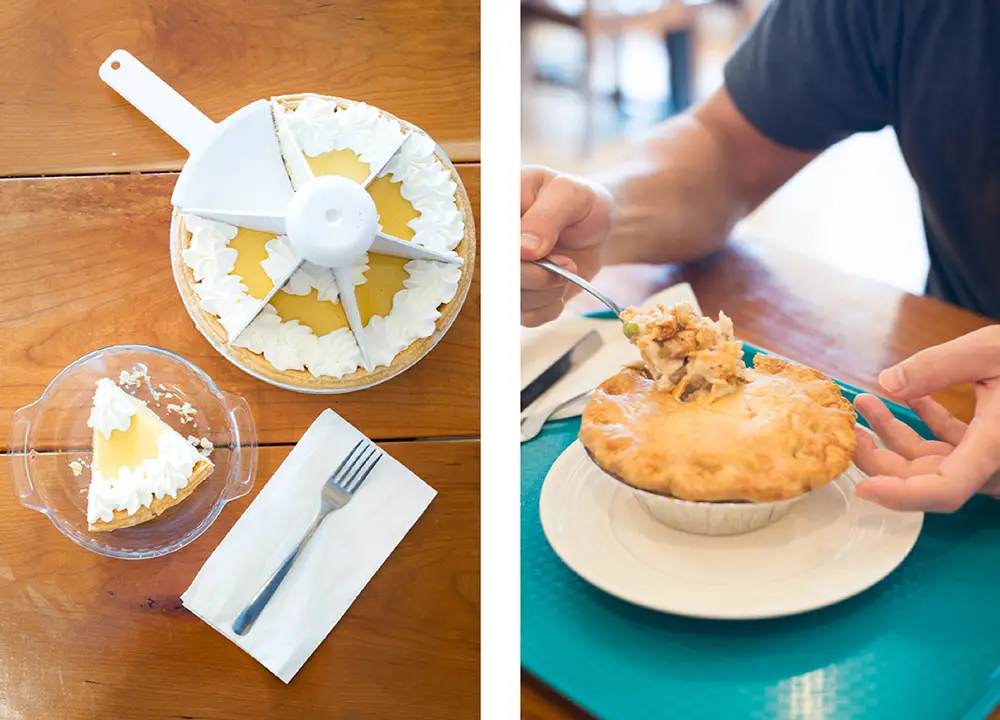 Anyways, back to the food. Their most popular Maui sweet pie is their mango strawberry. And yes, it was delicious. I also tried their lilikoi (passion fruit) cream pie. Like key-lime, but better. Their pies are "grandma-approved" and don't use any preservatives, fillers, gels, etc. Basically their pillars are sugar, butter, flour. Good, good, good. I am generally not a huge fan of pie crusts, but the crusts on Maui Pie pies completely changed my mind. If pie crust were always that good, well, I'd be eating pies a lot more.
Need something savory to balance the sweet? Their most popular item in the store is actually their chicken pot pie. And yes, I tried that too and it was delicious. Flaky flaky crust.
My sister-in-law told me I just had to try Maui Pie out, and I'm so glad I did! By the way, my lifelong dream is to just get up and move to Japan. On our drive home I told my husband, "can we be like Maui Pie and just get up and move to Japan, please?" But apparently it's not that easy. So he says… we'll see.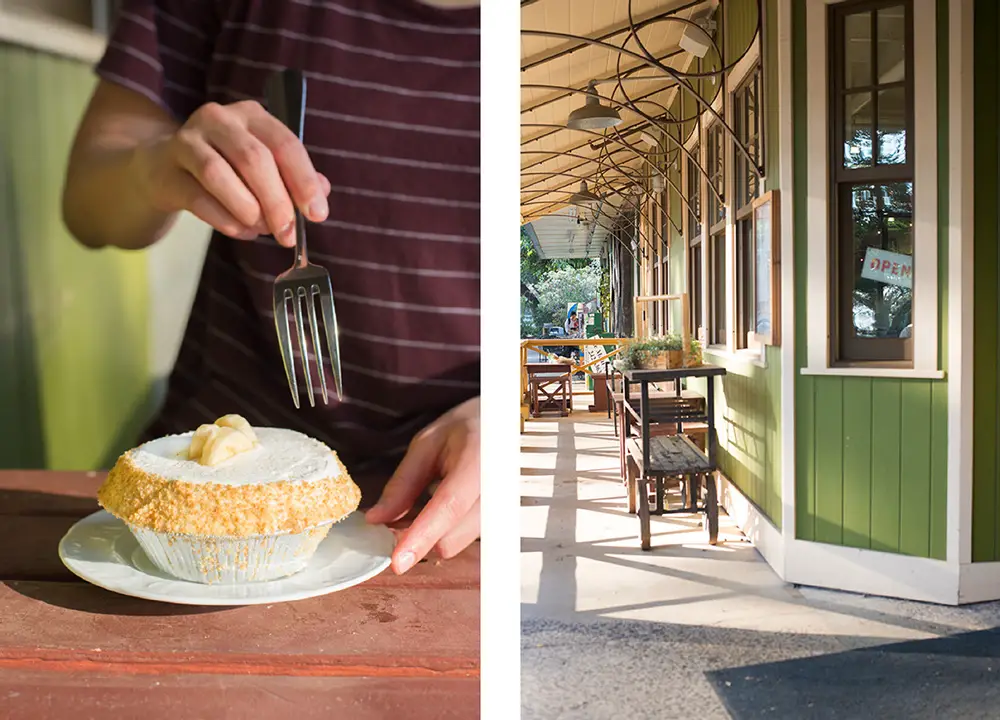 When I asked for recommendations of where I should go eat, I kept hearing that I needed to check out Leoda's and try their cream pie. So, even though I'm not a huge banana cream pie fan, I had to give it a try (guess who is now a banana cream pie fan? This girl). It's on the way to Lahaina, so it would be a great place to stop by if you are going to do a day trip out there.
Leoda's just celebrated their 5th year in business, but the company that owns it has been in Maui for a long time. They started off with Old Lahaina Luau 30 years ago and have since added Aloha Mixed Plate, Star Noodle (we went there for dinner… get the brussel sprouts. TRUST ME), and then Leoda's. Leoda is actually the mother of one of the owners, and she grew up in Olowalu, which is where the shop is located. So basically, the shop is a homage to her. Cool huh?
The number one thing you should know about Leoda's? 90%… yes NINETY percent of their ingredients are sourced on Maui. I mean, Maui is a tiny little island. I don't know how they do it, but apparently they do, so, great! Locally sourced means fresh, in season, and delicious! As an example, their sauerkraut is made in store using local Kula cabbage. They tinkered with the recipe for 3 months to perfect it. It's amazing what can happen when chefs are given the freedom to experiment, be creative, and really work out recipes, to bring the very best product to us, the customers!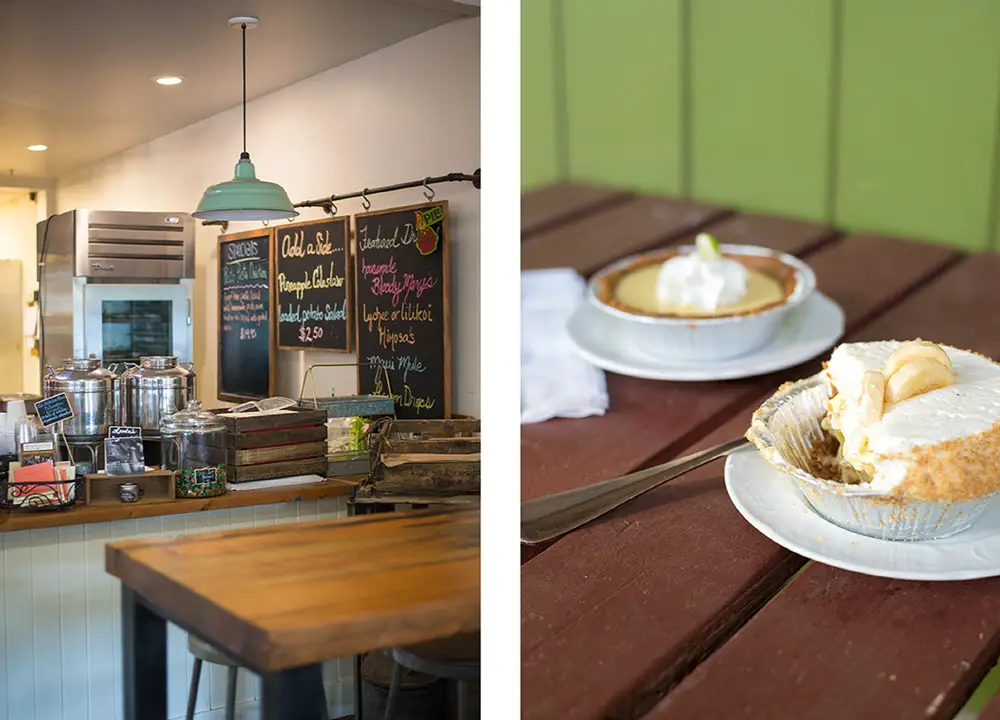 Leoda's most popular Maui sweet item is their banana cream pie, which is what everyone was telling me I needed to try. However, the staff favorite is, hands-down, the key lime pie. So, I tried both. Which one is better? Well, what are you in the mood for? Light, fluffy, creamy banana cream pie? Or tart, rich, smooth key lime? I don't know, they were both amazing. I'd recommend getting both.
While you're at it? Get their Reuben sandwich. I didn't have the opportunity to try it, because of some time constraints, but I was just dying over the description of it. They make their corned beef in house by brining it for three days and smoking it. They make their own sauerkraut and thousand island dressing (which is 100x better than the stuff you can get at the store). And apparently it's ah-mazing. I don't doubt it at all.
I really liked the feel of Leoda's. The interior is really cute, and it would be a great place to have lunch, and of course, pie!
So there you have it, my top 5 recommendations for Maui sweets! Do you have any favorites that aren't mentioned here? Let me know below in the comments!